Home
Faith. Scholarship. Service.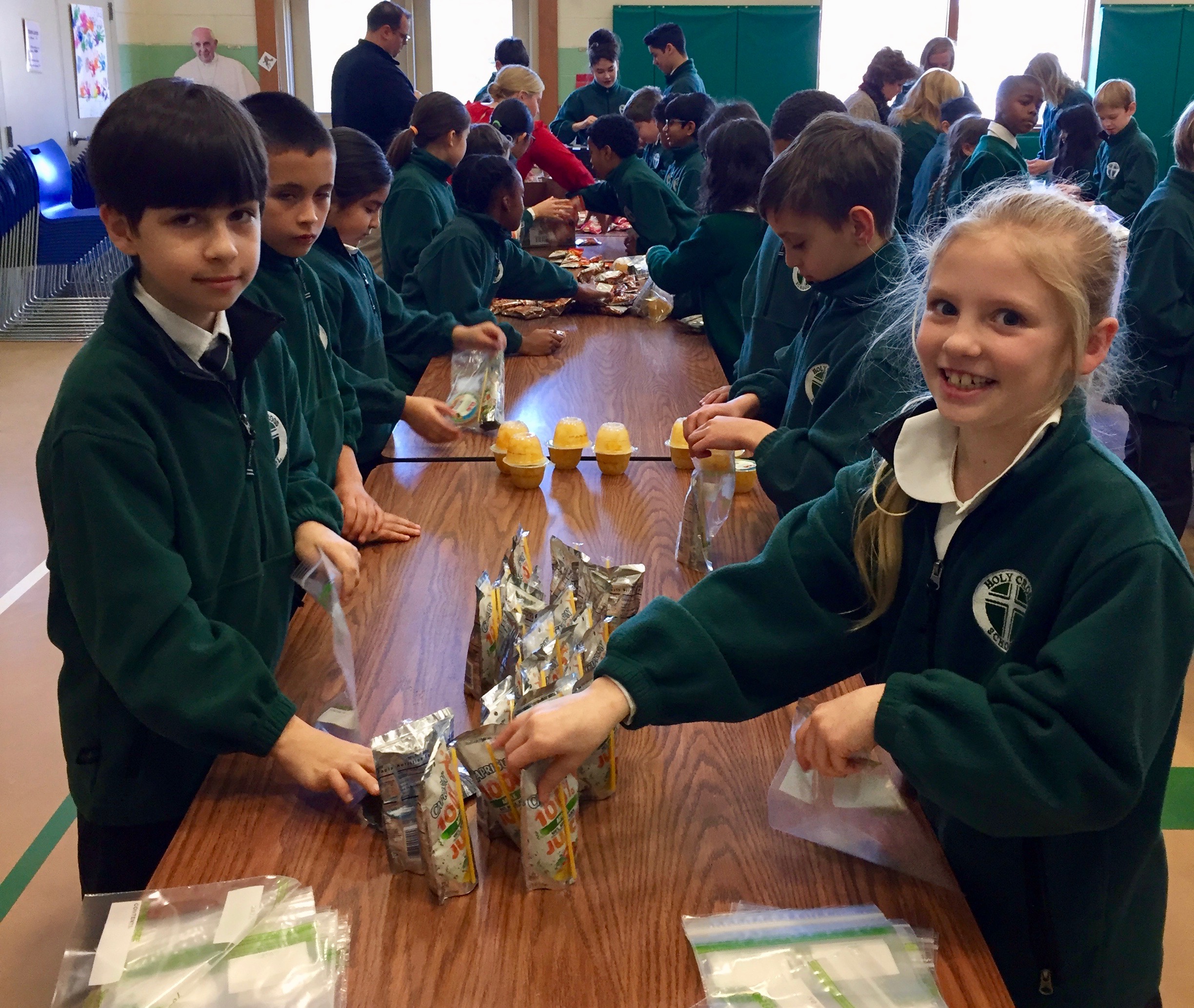 Welcome to Holy Cross School!
Holy Cross is a coeducational Catholic school serving children in Pre-Kindergarten for 3 year olds through Eighth Grade.
Our school is a diverse, faith-centered community that was recognized in 2013 as a National Blue Ribbon School of Excellence. We are an inclusive learning community that strives to achieve each student's full potential and develop a positive attitude toward learning.
Holy Cross students receive personal attention in a warm, caring, and safe environment. Our students learn to contribute to one another, to their families and to the global community.
Faith, Scholarship, and Service are our guiding principles. These values guide our students, faculty and parent community in all we do. We welcome you to explore our website and encourage you to attend one of our open house events, schedule a private tour or arrange a shadow day for your child.
"Teachers tailor their instruction to the individual needs of students and can easily enrich the already advanced curriculum to challenge students."
"The entire curriculum is not only intellectually-rigorous; it is rooted in Christian values of respect for and service to others."
"Holy Cross is a family. It reminds me of the small, rural school that I grew up attending. The education my children receive is second to none and I love the values and Christian ideals incorporated into everyday student life."
"We love that the student body at Holy Cross is a perfect amalgamation of the world, while at the same time delivering a blue ribbon quality education and imparting Christian principles to our son."
"The sense of community extends to the students too, where the older students look out for and mentor the younger ones."
"The students' moral formation is guided through teaching, example, attendance at Mass, and opportunities for service."
"The teachers care more than at any school I've been involved with, and I find them to be ultra-competent."
"As parents we love the strong sense of community; the class is small enough that we really get to know the other parents and kids at birthday parties, field trips, and school events."
"The nurturing staff and smaller class size has benefitted my children's relationships with peers and educators. The respect and faith taught in the classroom has carried over into home and sports life - it's great to see."
"Holy Cross is the best of all worlds. The amazing staff are experts who not only know their subjects well but also understand children and how to interest and encourage them."
PreK-4 enjoyed the sweet story "The Lonely Scarecrow" with their 4th Grade buddies. They learned about appreciating the differences of others and loved making their own scarecrow with their big buddies! #ADWFamily #ILoveHolyCross
Some students from 8th Grade paused to enjoy the beautiful view at Camp Wabanna while on their class retreat today! #ADWFamily #ILoveHolyCross @CampWabanna
Cata enjoyed a dialogue with Rep. Jamie Raskin when she asked how political opinion and critical thinking come into play when problem-solving. Thank you @RepRaskin for taking the time to speak to our 8th Grade students! #ADWFamily #ILoveHolyCross
Did you know consonant sounds are blocked by our teeth, tongue, or lips? Miss Overly's keeping it fun in first grade with connecting how construction workers block off roads to the way we block sounds from coming out. #ADWFamily #ILoveHolyCross
Don't forget...Mrs. Kane has granted a dress down day on Tuesday, 10/15 in celebration of the Washington Mystics capture of the WNBA championship! All out of uniform rules still apply 🏀 #ADWFamily #ILoveHolyCross
Our Kindness Tree is growing! We are so proud of all of the kind acts that are making our tree so beautiful! #ADWFamily #ILoveHolyCross #AlwaysBeKind
Kindergarten loves learning more about the Spanish language and Spanish speaking cultures during their lessons with Señor Vicente! #ADWFamily #ILoveHolyCross #HispanicHeritageMonth
4th Grade loved reinforcing what they've learned about place value using skittles! #ADWFamily #ILoveHolyCross